Outdoor Survival, Winter and Hot Weather Clothing
Living outside in tents, on the streets or in vehicles puts a huge demand on people to try to manage the extremes of heat and cold, and rainfall. It's very hard not to suffer the ill-effects of heat exhaustion or the undermining effects of wearing damp clothes. People are severely at risk when they get cold and wet.
We have always provided tents, tarps, rope, tape, water proofs, sleeping bags dry socks, trainers etc. Last year we began coordinating a Sonoma-wide program for outdoor gear and winter clothing. We collected resources for a range of agencies, outreach teams, and faith groups and distributed to them from October through March for a couple of hours each week. We gave out 5,000 items, including 250 tents.
We have continued through the spring and summer of 2018 to distribute seasonally appropriate clothing and whatever tents etc. that we have managed to collect directly to people living homeless at our clinics and through clothing events. We probably give away 90 items of clothing and toiletries at each clinic event and over 200 items of clothing and footwear at specific clothing distribution events.
As of September 1st we are beginning to gear up for the Outdoor Survival program for this winter. We have surveyed agencies and colleagues and spoken with people living homeless. It's important to aim for the right things. It seems that clothing is relatively easy for people to get, so while we will continue to take in donations of clothing to distribute our main focus is on tents, tarps, sleeping bags and blankets, and items of outerwear that are in short supply.
These are our goals:
Sleeping bags - 600
Packs of new athletic socks - 400
Waterproof and rainproof jackets for adults - 300
Sweatshirts and hoodies - 300
Jeans ( for women and men) - 200
Tents - 250
Tarps - 250 (a mix of sizes 6x8 and 10 x12)
Bungees, duct tape, and rope - because there are always running repairs, securing tarps and fixing luggage, tents, and vehicles to be done
We will be distributing to agencies most Thursday mornings from November to March and we will be taking out resources into the community as usual.
If we receive more clothing or other items than we can manage we will be signposting to agencies that are taking in donations.
Our Jacket Challenge
Help us to collect adult water and windproof jackets for distribution to people living homeless and the agencies and outreach teams serving them. We will be collecting in all the adult jackets that you can collect in the following times and by other arrangements. Friday 16th November 2-3 Parking Hardcore Coffee 81 Bloomfield Rd, Sebastopol, CA 95472 Saturday 17th November 10-11 Parking Lot Extra Storage 496 Hearn Ave Sunday 18th November 10 - 2 Parking lot, 3345 Santa Rosa Ave. Look out for our Homeless With Pets black clinic trailer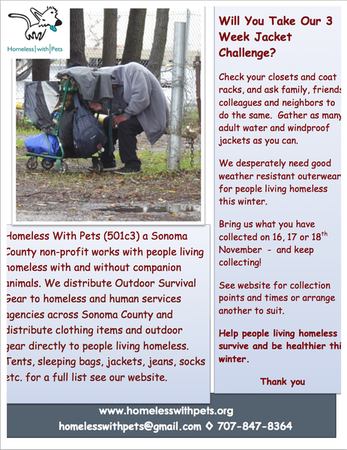 Partnering With ACE Bennett Valley
We can't do anything without great partners. ACE Bennett Valley and Chase ACE San Rafael are helping us. For every 10 sleeping bags bought at the store or through the Acehardware.com website (SKU 8063554) they will contribute a sleeping bag. If you would like to buy a sleeping bag - or several for us to distribute - consider buying through ACE and helping us get some additional sleeping bags.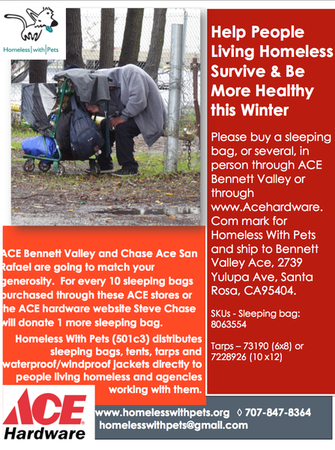 Run an Outdoor Gear and Clothing Drive
Maybe your university, school, college, workplace or community group would like to collect outdoor gear or funds to buy items.

We've created a flyer you might find useful to download with a brief outline of some of the reasons why this is important and some steps to think through to be successful.

Buying through Amazon
We add a carefully selected series items to out Homeless With Pets Wishlist on Amazon. It would be great if you could buy something from this list. If you do, and indeed when you shop generally on Amazon. Please remember that Homeless With Pets is part of the Amazon Smile program. So we benefit doubly from anything you buy from our wishlist and benefit from purchases that you make. Thank you. Amazon Smile https://smile.amazon.com/ch/81-2737420
Amazon wishlist can be found here: