Homeless With Pets: The Big Plan
This is Homeless With Pets Big Plan. Our vision for our developing project is to increase the number and range of the elements we are able to offer either directly or through co-ordination with our partners.

We have four areas of work:

Working with homeless people who have animal companions and developing appropriate and responsive services

Researching and understanding better this aspect of the human-animal bond and sharing this with various homeless services providers, health and other professionals as well as into the human-animal interactions research community

Working with homeless service agencies and other professionals about the human-animal bond
Working with homeless people or those recently homeless, developing skills based training to support peer service delivery and support entry into the workplace
There are 12 elements to our planned provision for homeless people and companion animals. Homeless With Pets is working with a number of partners in creating this provision.

Homeless with Animal Companions
12 elements to Homeless With Pets provision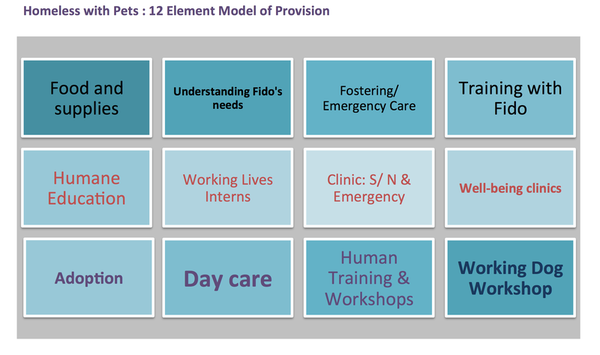 Describing the 12 Elements
The elements on the first two lines are all being delivered through our mobile Homeless With Pets trailer and through various outreach activities. We have begun developing a trained and supported pool of Interns who are helping with the services that Homeless With Pets offers. They help distribute food, promote the clinics and other activities and staff various elements of the clinics and other events.

With the help from various amazing partners we are able to help people living homeless when they need spay/neuter and are able to sometimes help financially or by finding a veterinarian willing to undertake low-cost treatments.

The final row of elements the development of more work-based opportunities for the Interns, including providing day care for the animals of homeless people are being developed.

We have completed a significant amount of work to create the infrastructure for these various elements.
We always need financial support, food and other in-kind donations and the help of volunteers.

For more information on our needs and any thoughts you have on helping Homeless With Pets develop these project elements please contact us as below.